Short interview and feature of Sarah's dream to finish the Kona Ironman one more time in 2018. Proving you don't need two legs to dream and achieve.
ESPN followed along with Iron Sarah, Sarah Reinertsen, before, during and after this year's 2018 Kona Ironman World Championship race, covering the event as a life in the week of an Ironman competitor, one who happens to be competing with a prosthetic leg. The story and photos provide glimpses into why it takes an iron will and in Sarah's case some carbon too, to compete and complete this grueling event.
Read the entire ESPN feature story.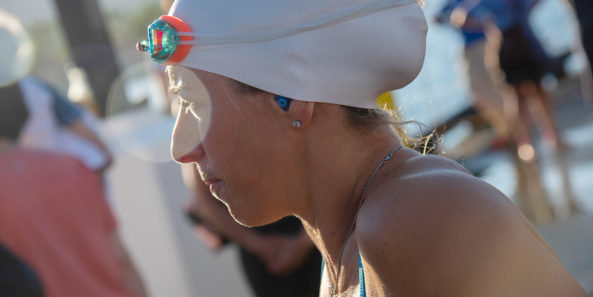 Melissa Lyttle was the wonderful photographer for the story and she also shared a video of Sarah swimming on her Instagram account.
Recently, Sarah was interviewed on the 100th episode of the Brink of Midnight Podcast with host John Brenkus, a six-time Emmy Award-winning host and NYT Best-selling author.
Through the Brink of Midnight podcasts, John explores the moments that each guest credits with changing their lives forever. The moment that pushed them in an unexpected direction, shaping the experiences that followed and molding them into the people who they are today.
Listen to the podcast:

As highlighted by the show Sarah's list of "firsts" are many:
Setting her first World Record (100m dash) at age 13
First amputee featured on the cover of Runner's World Magazine
First female athlete to complete the Ironman World Championship on a prosthetic (2005)
First amputee (male or female) to grace the cover of ESPN Magazine's Body Issue
First amputee (male or female) to participate in CBS's "The Amazing Race"
First amputee (male or female) to complete the World Marathon Challenge – 7 half-marathons on 7 continents in 7 days
First female athlete to run the Great Wall Marathon in China on a prosthesis
Represented Team USA at the Paralympics, is a three-time ITU Paratriathlon World Champion, has won six gold medals, and held five previous world records
Photo credit: Nike
Sarah is featured on Nike IGTV channel discussing her journey to Kona Ironman 2018 in "My Crazy Dream". She shares how she dreams big and how you don't need two legs to dream. Filmed on Kona, Hawaii the week before Sarah competed and finished the Ironman World Championship 2018.
If someone said to me, "look we can give your leg back", I don't think I would take it. I think the life I've led on one leg is far more exciting than the life I would have led with two normal legs.