Short interview and feature of Sarah's dream to finish the Kona Ironman one more time in 2018. Proving you don't need two legs to dream and achieve.
ESPN followed along with Iron Sarah, Sarah Reinertsen, before, during and after this year's 2018 Kona Ironman World Championship race, covering the event as a life in the week of an Ironman competitor, one who happens to be competing with a prosthetic leg. The story and photos provide glimpses into why it takes an iron will and in Sarah's case some carbon too, to compete and complete this grueling event.
Read the entire ESPN feature story.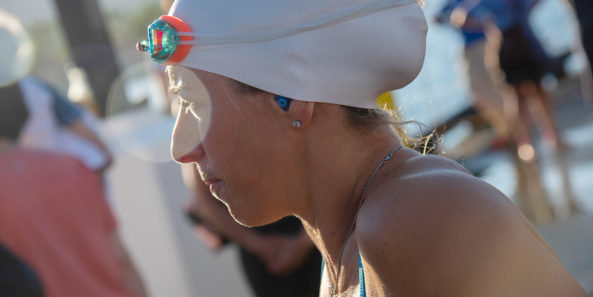 Melissa Lyttle was the wonderful photographer for the story and she also shared a video of Sarah swimming on her Instagram account.
View this video interview with USA Today where Sarah Reinertsen explains how she competes in the Ironman with a prosthetic leg. This will be Sarah's third IronMan, which will be held in Kona, Hawaii on October 13, 2018.

I want people to see me in the Ironman, and instead of feeling sorry I want them to feel empowered. A lot of social change comes through sport, think of Jackie Robinson. In some ways I want that same cultural change to happen with people with disability.
With the Ironman there are no exceptions to the rules. Every competitor, even those with a prosthetic leg like Sarah's, swim, bike and run under the same mandates making the race even more of a challenge. Sarah must bike without being able to stand up on the pedals when more power is helpful for powering up the hills.
I still continue to hear stories about people with disabilities that are being denied the rights to play and be part of after-school sports and this year the race for me is really about having a higher purpose. I really want to dedicate this one to helping others get to their own starting line.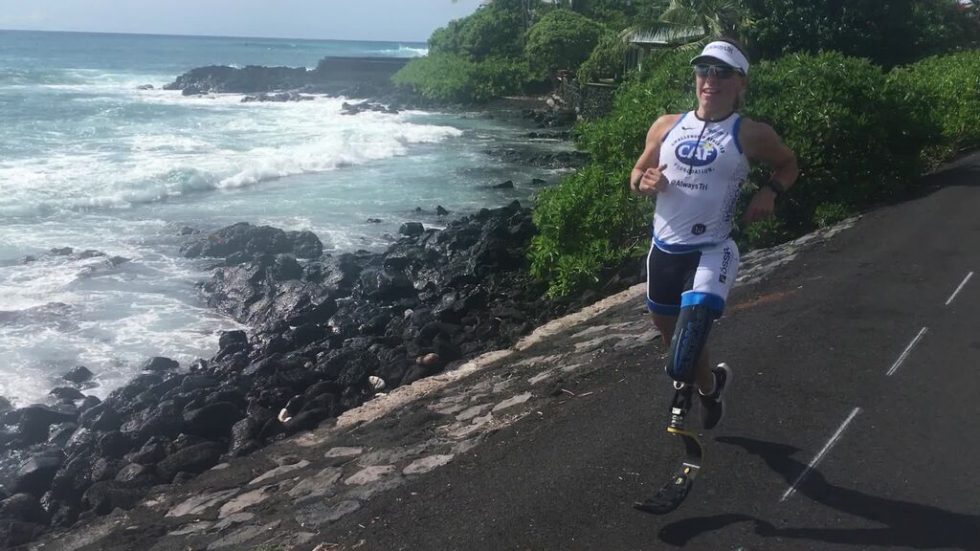 For info on the Kona Ironman World Championship 2018 race, how to track Sarah's progress in the race and where to watch highlights of the race.
Sarah is interviewed by Breakfast with Bob before she competes in this year's 2018 Kona Ironman World Championships. She talks about what originally inspired her to get started running and setting goals which led to competing in the Paralympics and the Ironman World Championship two times in the past.
She discusses how as a child with a disability it was difficult to get involved in sports. She didn't know she could be an athlete until she met Jim McClaren, which changed the trajectory of her life, as he showed her it was possible to be a runner and to race in triathlons.
Sarah, who missed the bike cutoff time in Kona in 2004 but came back in 2005 to make all of the cutoffs became the only single above knee amputee woman to finish the race. She talks about her experiences in 2004, what she learned and how it helped her conquer the course in 2005 to hear Mike Reilly say the words, "You are an Ironman".
She also discusses her most recent athletic accomplishment of being the first amputee athlete to complete the World Marathon 777 Challenge, 7 marathons in 7 days on 7 continents.
Thirteen years later she is back, aiming to finish the race and inspire other challenged athletes to reach for their dreams.
I know when I start this race, there are no guarantees I am going to make the cutoff. So it is a very different ballgame. I am not looking for first, second or even tenth place. I just want to finish this thing. –Sarah Reinertsen